When evaluating deployment decisions, it's important to recognize the full business value of deploying a Cloud-Based CRM Solution.  At a high level, we see a lot of benefits at the intersection of CRM and the cloud. CRM lowers cost of sales while increasing revenue and productivity.  Cloud helps you realize those benefits more quickly and with greater reliability.  Let's drill into some of those subject areas:
Deploying CRM in the Cloud frees up IT Assets and Budget, allowing customers to spend IT resources more strategically.  Shifting to the Cloud allows IT staff to spend twice as much of their time on IT strategy.  IT staff spends 20% less time on routine service maintenance.  Cloud cost savings double budget available for new initiatives.  Also, Cloud CRM offers additional opportunities and efficiencies when integrating with other cloud services.  Whether it's a common administrative experience with Microsoft Office 365, or integrated applications with Microsoft Azure, a cloud CRM deployment becomes even more valuable as part of a larger cloud strategy.
Cloud CRM enhances the End-User Experience.  Customers deploy Cloud CRM three times faster. 54% more of sales staff will adopt it, and in roughly half the time.  Once deployed, users will enjoy 93% less service down time and a better customer service experience.
3.  Finally, Microsoft's mantra of Cloud First, Mobile first, is particularly applicable to the needs of mobile sales teams.  Cloud CRM reduces costs of sales by increasing time spent selling, reduces support costs, and reduces time lost to technology limitations.  On the other hand,  Cloud CRM increases the number of calls that result in a sale, average sale size and cross sell/upsell success, resulting in a 15% revenue increase.
ON PREMISE DEPLOYMENT
On Premise deployments are the deployment approach that most customers are familiar with as many of the took this approach over the last 20 years or so with the rise of client server computing.  As virtualization started to rise we saw more customers consolidate physical servers and run many virtualized instances on a single physical server hardware.  This was often referred to as a Virtual Private Cloud.
With this approach IT maintains a high level of control of their server infrastructure including purchasing of hardware, installing the hardware , software, storage and network.  However, the cost associated with IT headcount, software, network, Disaster Recovery, High Availability, patching and upgrading becomes one that the business must fully absorb, these factor into an organizations CAPEX costs.  Further, the organization must think about the time an effort required to address global business needs.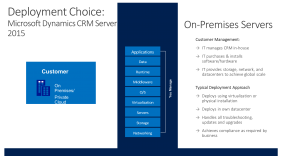 It's often more expensive to scale out (build datacenters or lease space), scale up (add more resources as usage and load demands require – you have to wait for procurement, installation, test, then finally live), further, you need to work with auditors and have compliance staff in place to ensure that you are meeting the regulatory needs placed on your business both domestically and internationally.  Once live, how do you scale down to reduce your spend when resources are no longer needed?  In this case you still need to absorb the CAPEX costs.
While this approach continues to serve many businesses well, in todays fast moving market you need to ask yourself "Will they continue to serve me for the future?  Keep me competitive?  And allow me to get IT working on strategic initiatives for the business?"  or Will you continue to keep the lights on while your competition goes broader, faster and at lower costs?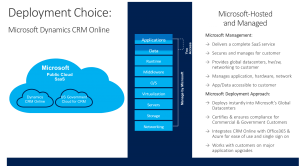 CRM ONLINE DEPLOYMENT
The final option for running CRM is use Dynamics CRM Online which is a complete SaaS solution. SaaS solutions are finished services that are made available to a customer at a single price typically per user by month or by year.  Dynamics CRM Online includes the software license, the management of the service, maintenance, application upgrades, use of the latest hardware, high availability and disaster recovery.
In the case of CRM Online, Microsoft provides all of the aforementioned options in it's offer including a 99.9% financially backed SLA and also handles a number of Compliance Certifications required by local governments for customers do business in these markets.  We provide a modern Generation 4 infrastructure with Global Datacenters around the world.  We have invested Billions of dollars to deliver world class infrastructure.  Even as we continue to expand our datacenter footprint our prices remain the same.  In addition, we have 3rd party penetration testing to ensure that are services are secure and we follow strict processes regarding access to information and privacy.  Further, we do the heavy lifting to ensure integration with our other cloud services including Office365, Yammer, Exchange and Azure (for building custom line of business cloud apps that want to integrate with CRM Online)
Additionally, our U,S. Government customers have special requirements that differ from Commercial customers.  We have invested in datacenters that meet the strict compliance and regulatory requirements of these agencies.
KEY BENEFITS OF GOING WITH MICROSOFT CRM ONLINE IN MICROSOFT PUBLIC CLOUD:
Speed to Value. 

Get up and running faster, implement enhancements quicker, realize value sooner.

Cost predictability.

Pay-as-you-go pricing that allows you to change capital expenditures into predictable operating expenses.

Continuously Available.

Application and Infrastructure Management is handled for you and backed by a guaranteed, financially backed SLA of 99.9%.  Access anywhere using a browser, work offline with Outlook integration.

Use Modern, High Performing Infrastructure.

  We have invested billions in our state of the art datacenters to deliver the best user experience.

Ready When You Are.

Capacity to grow as fast as your business can go. Deploy CRM quickly; expand globally in an instant;  add users at a moment's notice.

Secure, Compliant, Redundant. 

3rd party testing, regulatory compliance to address global business needs. Multiple copies of your data and instance to prevent outages. We do the heavy lifting so you don't have to.

No Compromise on Dev & Test.

Dev & Test on the same configuration and hardware as Production.  More than 25 licenses gives you a free sandbox environment

Maintain Flexibility.

  Customize as needed for your business.  UI, Entities, Activities, Dashboards, Workflows.  Tons of flexibility

Transform IT, Deliver Higher Value.

Focus IT on strategic efforts to achieve better business alignment by reducing complexity associated with hardware, software, support, update, backup or tech training activities. Microsoft manages, allowing customers to focus on their core business strengths.

Integrated with Office365 for ease of us.
DYNAMICS CRMOL (ONLINE) VS. SALESFORCE BATTLECARD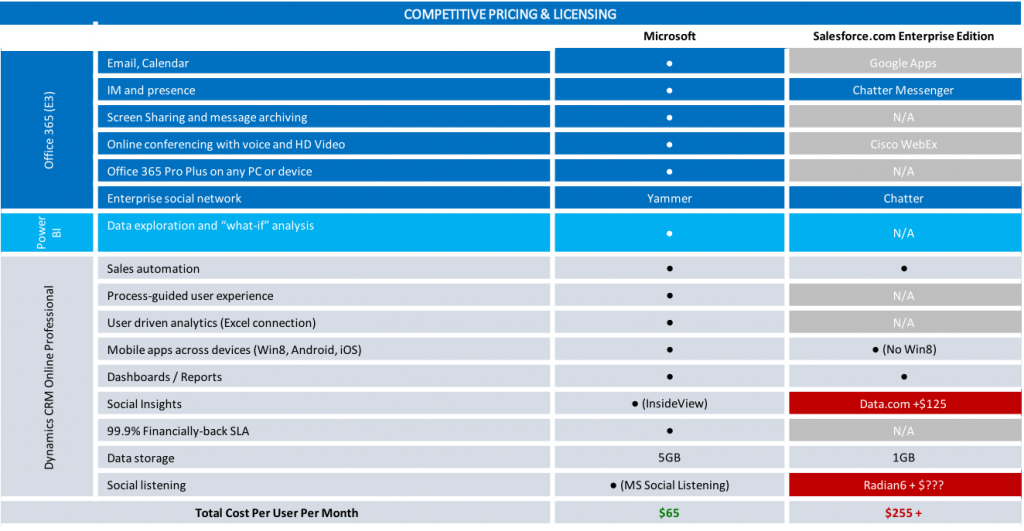 DOWNLOAD THE FULL PRESENTATION: