Microsoft Dynamics 365 evolves our current CRM and ERP cloud solutions into one cloud service with new purpose-built apps to help manage specific business functions, including: Financials, Field Service, Sales, Operations, Marketing, Project Service Automation and Customer Service.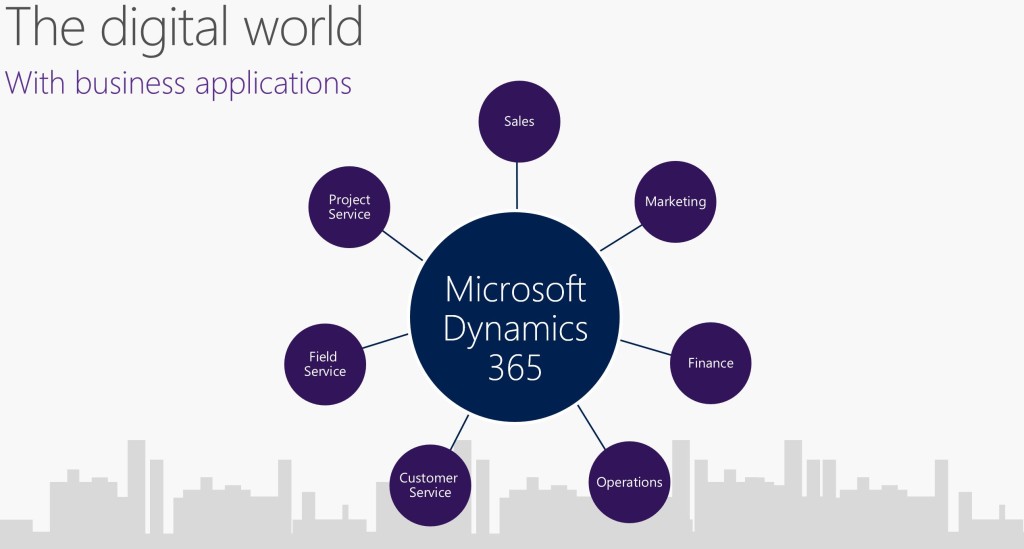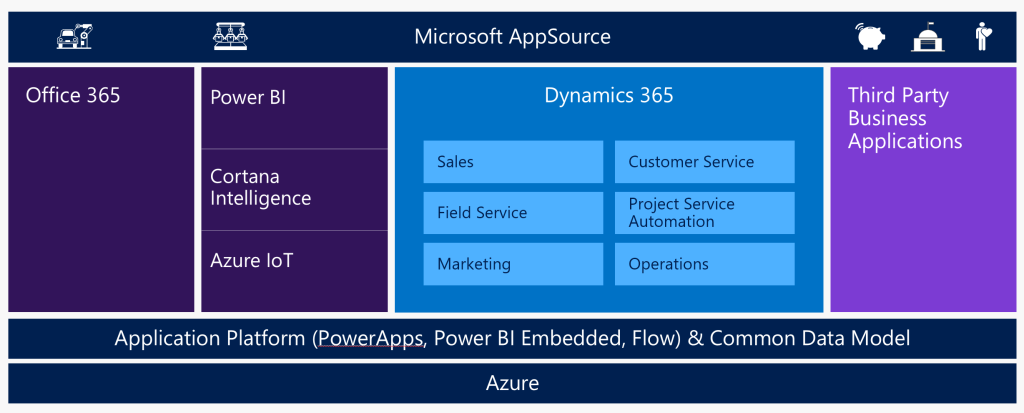 Dynamics 365 apps are designed so they can be easily and independently deployed. That means you can start small and pay only for what you need. Yet they work together seamlessly so, as your business demands, you can grow into additional capabilities with ease. They include built-in insights, predictive intelligence and workflow optimization, all of which will be delivered through simple, easy-to-use, mobile experiences with offline capabilities.
Power BI and Cortana Intelligence will be natively embedded to help customers achieve their business goals with predictive insights, prescriptive advice and actionable next steps.
For example, Cortana Intelligence will enable cross-sell recommendations to help sales reps predict which products and services a customer will need. Access to IoT data inside Dynamics 365 for Field Service will enable preemptive action from field service agents by connecting asset monitoring and anomaly detection so they can take action before failures occur, avoiding costly customer service issues.
Deep integration between Dynamics 365 and Office 365 will connect the structured workflow of business apps with the unstructured work of collaboration and productivity.
For example, a sales person receives an email, and can respond directly in Office with a quote that is created based on information from both Finance and Sales apps, stored back to the right app, with right pricing, discounting, etc. All without the user having to leave Outlook.
Adapt and innovate in real-time with a common data model and extensible business application platform. Dynamics 365 apps will:
Use a common data model, shared with Office 365, to simplify data management and integration across apps and business processes.
Offer tech-savvy business customers/analysts, aka "citizen developers," (using PowerApps, Power BI and Microsoft Flow) and professional developers (using Azure platforms services) a consistent business platform they can use to compose new apps and easily extend and modify existing ones.
Come with connectors that let you integrate with applications and services from Microsoft and our partners – including custom APIs and on-premises systems.
A place to find new apps and better ways to get things done
We are also introducing Microsoft AppSource – Microsoft's new destination for business users to find and try out line-of-business SaaS apps from Microsoft and our partners. At launch AppSource contains more than 200 business SaaS apps, add-ins and content packs, including exclusive new industry-specific business apps from:
AFS™ "Retail Execution" – An end-to-end solution for CPG organizations to use as they engage with their customers in the field, covering visit and merchandising, sales, asset management and audit as well as a full suite of BI and analytics.
AvePoint "Citizen Services" – Government organizations can automate incident reporting, response and resolution, so employees can solve issues faster and serve citizens better.
Veripark "Next Best Action" – Financial institutions can maximize the lifetime value of each customer and deliver a first-class customer-centric experience by making the right offer, at the right time, via the right channel.
With Dynamics 365 and AppSource customers can encourage innovation, increase collaboration and ultimately achieve more with the power of intelligent business apps. For additional insights from the engineering leaders for our business applications, and the application platform innovation Microsoft is delivering, please visit here.
Customers can learn more about Dynamics 365 here and about AppSource here. Partners can learn more here.
"If Microsoft delivers what they're saying, and it's a common database and common data structure so I wouldn't need to worry about upkeep on complex integration — that's something Salesforce currently doesn't have," Beste said. "That's a game changer on how we sell CRM and eases the buying of it."
"Our role-based approach will give customers the flexibility they need to support modern, more agile, more diverse employee roles," said Jujhar Singh, corporate vice president of Microsoft Dynamics CRM, but the traditional licensing approach by application will still be available.
"If Microsoft gets it right and provides access to what a sales manager should have access to, then I as a sales manager wouldn't need to worry about which applications to buy; I could just buy the sales manager license," Beste said. "What Microsoft ends up defining as the software that fits that role and if it matches what that role needs is to be determined."
Contact PowerXRM to learn more on the Dynamics 365 pricing.
Check out this link: Business Platform Innovation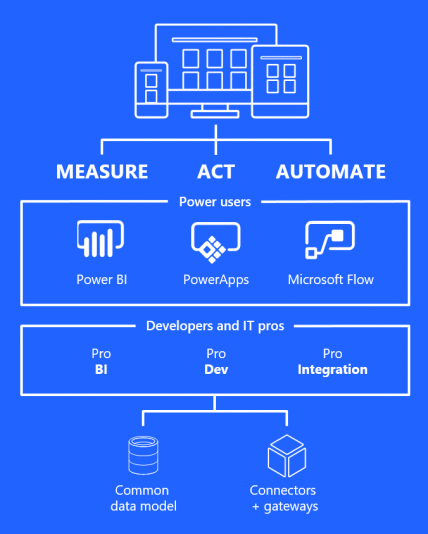 & More form Corporate Vice President of Dynamics CRM:
What will Microsoft Dynamics 365 give me that I don't already get today?
Microsoft Dynamics 365 will bring together the best of our CRM and ERP cloud offerings into one cloud service with specific, purpose built, apps for each of your key business processes – like Finance, Sales, Customer Service, etc.
Dynamics 365 apps will also provide you with a modern and familiar experience with built in insights, intelligence and workflow. To ensure interoperability and extensibility they also use a common data model and consistent application platform.
The combination of these things gives customers a comprehensive solution for business process innovation that lets them:
Start with what they need by offering apps that fit roles, industries, businesses – and grow at their pace to run their entire business in the cloud.   
Enable greater productivity where they need it by connecting structured workflow of business applications (Dynamics 365) and processes with the unstructured work of collaboration and productivity (Office 365) so employees are empowered with productivity tools surfaced in the context of their business processes, and vice versa.
Gain built-in, actionable, intelligence with business applications that infuse big data, advanced analytics and IoT into processes which proactively guide employees and customers to optimal outcomes. With Dynamics 365, data and insights are transformed into intelligent action right where it's needed, and without requiring an army of rocket scientists to make it happen.
Be ready for growth through nimble, adaptable applications, that allow them to compose, modify and extend processes in real-time. Power BI, PowerApps and Microsoft Flow empower business users to change and adapt their processes without requiring IT support. And organizations can reimagine their business model with a consistent, flexible, extensible platform.
Why did you choose the name Microsoft Dynamics 365 and what does it represent?
Microsoft Dynamics 365 is our next generation of business apps in the cloud. These apps bring together the full power of Microsoft across productivity, advanced analytics, Power BI and IoT, with the strength of Azure and a new application platform and common data model. As such, the new name reflects the significance of the offering and the coming together of the two worlds structured business processes and unstructured personal productivity so our business customers can achieve more.
How much will Microsoft Dynamics 365 cost? 
The business application industry has traditionally presented customers with a range of "siloed" applications.  When Dynamics 365 launches later this year we want to give customers a new choice.  While we'll support the traditional approach and allow customers to license Dynamics 365 by application (Financials, Operations, Sales, Marketing, etc.) they will also be able to license users by "role." Our new role based approach will give customers the flexibility they need to support modern, more agile, more diverse employee roles – enabling them to access functionality across all applications within Dynamics 365. We'll share additional details on pricing closer to availability.
Does this mean that I need to re-implement or migrate my current cloud solutions?  
No.  Microsoft Dynamics 365 has been very specifically and carefully designed to be a seamless transition for those customers using Dynamics CRM online or Dynamics AX online.   
Will Microsoft Dynamics 365 be available on-premises? 
No.  Microsoft Dynamics 365 is a cloud service so it will not be available, as is, on premises or in private clouds.
We will continue to innovate in, and support, our great Dynamics CRM, Dynamics AX, NAV, GP and SL solutions.  We will also offer customers connectors if they want to use a hybrid of on-premises and cloud solutions and a migration path when they are ready to move to the cloud.
What is the "common data model" and what role does it play with Microsoft Dynamics 365?
The common data model is a cloud-resident business database, built on years of experience with our enterprise customers. It will come with hundreds of standard business entities spanning both business process (Dynamics 365) and productivity (Office 365). The standardization and consistency of schema enables partners to build innovative applications and to automate business processes spanning the entire business process spectrum with confidence their solutions can be easily deployed and used across Microsoft's entire customer base.
What platform should partners use to build solutions today?
Partners should use Power BI, PowerApps, Microsoft Flow and Microsoft Azure to create composite business applications spanning Dynamics 365, Office 365 and, via a large and growing family of connectors, third-party databases and applications.
To extend the functionality of individual Dynamics 365 apps, partners may continue to use native application extensibility frameworks built-in to the CRM and the AX platforms.
Will partners continue to sell business apps from Microsoft? 
Absolutely. Partners are a key part of our strategy and have always been a key part of how our customers get the most from their technology investments. With Microsoft Dynamics 365 partners will have even more opportunity to focus on specific customer needs, build apps to differentiate themselves in the market and take advantage of new opportunities and revenue streams. Microsoft AppSource provides a modern discovery and provisioning system for these solutions.
What are the benefits for customers and for ISVs listing on Microsoft AppSource?  
For customers, Microsoft AppSource is your destination to easily find and evaluate the apps from Microsoft and our partners that drive your business.
For ISVs, Microsoft AppSource is your destination to market line-of-business (LoB) SaaS apps to business users. Drive discoverability and usage of your apps within an existing global network of business customers through co-marketing opportunities, lead generation and the support of Microsoft's worldwide ecosystem and sales force. Harness Azure's leading, secure and intelligent cloud services platform and tools to deliver differentiated apps to customers.