One of the biggest benefits in using Microsoft Dynamics CRM as an xRM platform (where x stands for any Relationship Management in any organization/industry), in terms of extending development and Business empowerment is that you are encouraged to leverage the native features of CRM and have the power to choose what you want and the way you need it. Microsoft Dynamics CRM provides a starting point to extend and automate business processes. Extending CRM is easy to do and when properly deployed, works in a natural way, allowing Business analysts and Dynamics CRM Consultants (power users) to have greater potential for customizations.
Using Microsoft Dynamics CRM as an organization platform consolidates the silos of information (marketing, sales, services, social) found in many Enterprises today. Consolidation of applications (marketing, sales, services, social) into a single platform drives down adoption costs and reduces risk.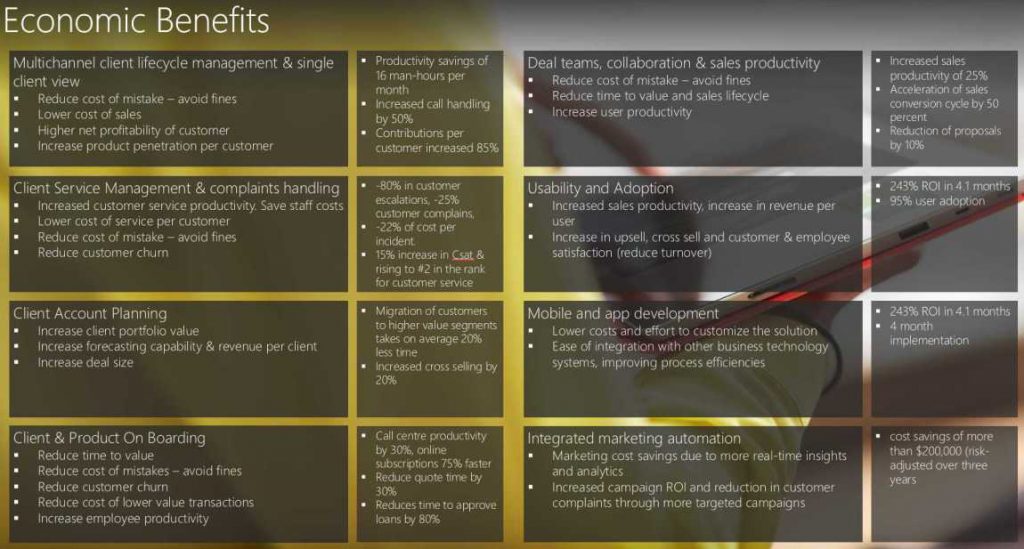 xRM (Anything Relationship Management in any industry/organization) is the natural evolution of CRM (Customer Relationship Management). In today's dynamic business environment, Enterprises need the ability to manage everything, not only relationships with customers.
Microsoft Dynamics CRM Leverages the power of:
Vast array of Microsoft applications. Native Microsoft technologies give end-users a consistent experience across all line of business applications (Microsoft Office 365, Microsoft SharePoint, Windows Azure, Skype, Yammer, PowerBI and others). Access on virtually any device, built-in collaboration, while providing IT teams with technology they know (Microsoft SQL Server, Windows Server,.NET Framework etc.).
xRM can be much more than just a platform used to develop custom business applications, but the Dynamics CRM has the potential to enable anyone in the organization to improve the operating performance of its business, and cultivate long-term strategic relationships. The platform approach is what Enterprises need today, and while considering a variety of options, from open source platforms to cloud-based alternatives, none of them delivers powerful xRM features, customer experience, scalability, extensibility, end-user empowerment, with hybrid cloud/on-premises options and potential for development talent.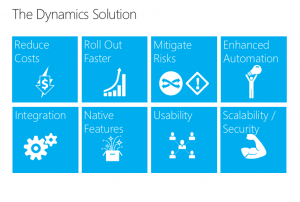 xRM is a clear choice for an IT organization seeking a platform approach to their custom solution development needs. Any organization that embraces xRM and the Microsoft platform for can position themselves as the ultimate PowerXRM Partner for strategic success. The ability to rapidly build solutions in Microsoft Dynamics CRM leads Enterprises to start making changes quickly. Careful consideration of Dynamics CRM Consultants ensures the value of the xRM platform and make adoption easy.
Dynamics xRM Key Adoption Benefits:
xRM accelerates the development of many line of business (LoB=Any Organization, Any Industry) applications on the same platform re-using shared resources;
Scalable, flexible, robust, multi-tenant for enterprise-wide deployments to support unique and changing business needs globally, supporting multiple languages and currencies;
Point-and-click Customizations;
Process Automation capabilities to help Enterprises build, streamline, and extend business process automation to every CRM user, team, people across the enterprise and users outside of the organization;
Power of choice ensures organizations get and use xRM the way they need it, whether it be on-premise or on-demand, subscription or licensee, ensuring it fits every Enterprise environment, need and budget; BI Predictive & Analytics, Personalized Experience, Social & Mobile.
Download Microsoft Dynamic CRM presentation:
Figures used: https://markmargolis.wordpress.com